KEATS – CORONA RELIEF FUND
To provide succour, strength and support to the vulnerable sections of the society during the lockdown crisis, KEATS has stepped in do it's best. To an appeal, the Indian diaspora in the US and other members of KEATS fraternity contributed ₹10.00 lakhs in no time. A matching amount has been allocated from the reserve funds. Support has been provided to orphanages, migrant labour and home guards. We wish to build momentum and scale up the relief operations. Request like-minded philanthropists to lend support to the cause. A small amount can also make a big difference.
Every rupee will be spent judiciously to reach the needy. Donations are exempt u/s 80G of IT act.
18th June 2020:
9th June, 20:
30 sets of 100 books each from Manchipustakam (worth over a lakh rupees) handed over to MV Foundation for establishing Karyakarta Libraries in Jogulamba-Gadwal dt. This will encourage reading habits in kids during lockdown.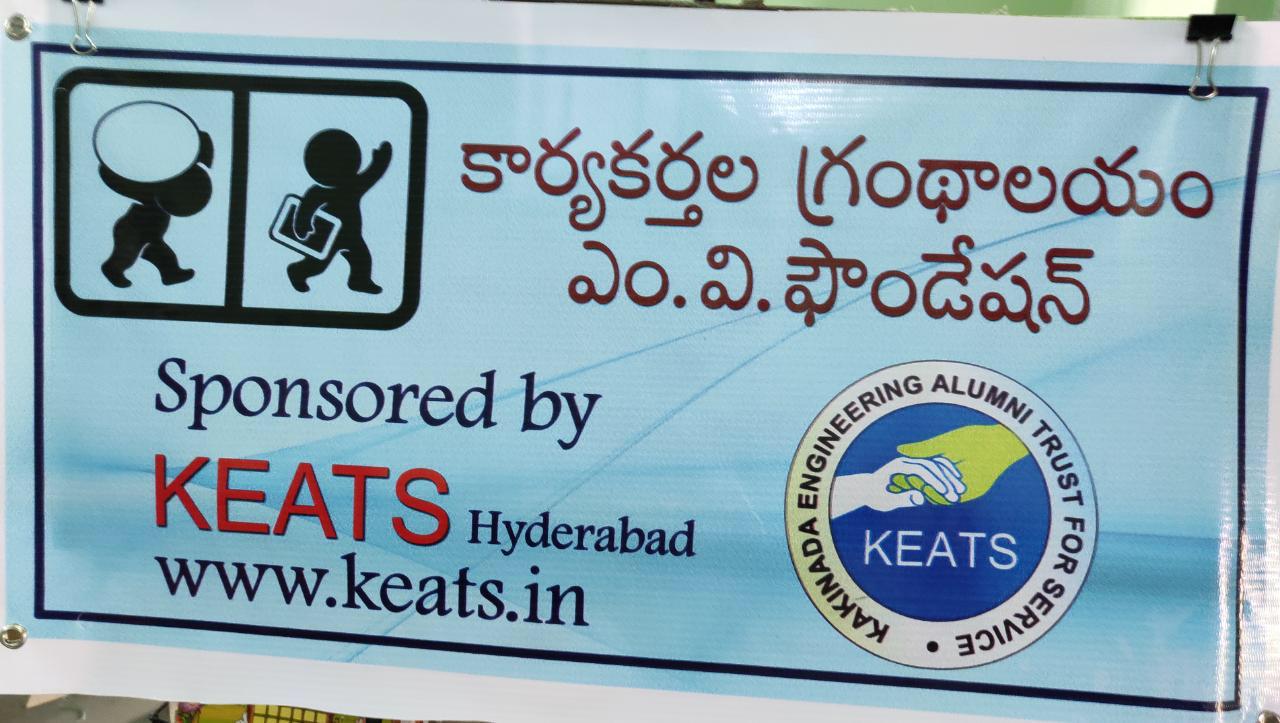 12th June, 20:
100 litres of sanitizers  handed over to Station Officer, Chikkadapally.
21st May:
1. Transportation was provided for about 20 pregnant women and children to Chattisgarh at a cost of ₹30,600/-

2. 50 provisions kits were handed over to KGNMT, Golconda for distribution to sex workers.
Both the needs were identified by Dept. of Women Development and Child Welfare, Govt. of Telangana.
20th May:
500 provisions kits were handed over to Mrs Kavya Kishan Reddy (wife of Sri G Kishan Reddy, Hon'ble Union Minister of State for Home Affairs). Few kits were distributed to Municipal workers on daily wages and rest shall be given to the needy through their unit heads.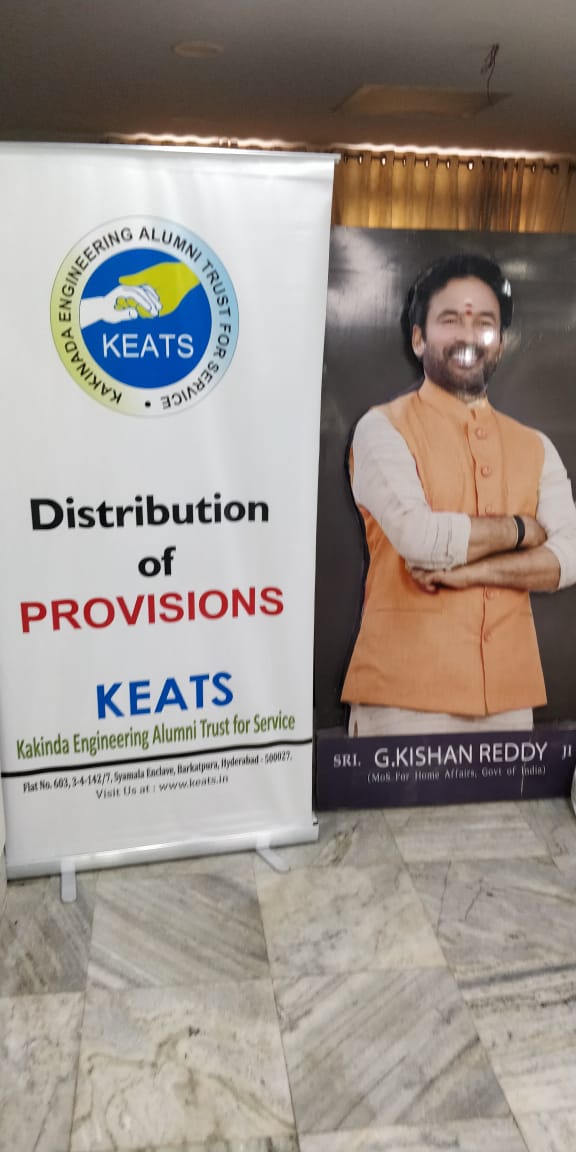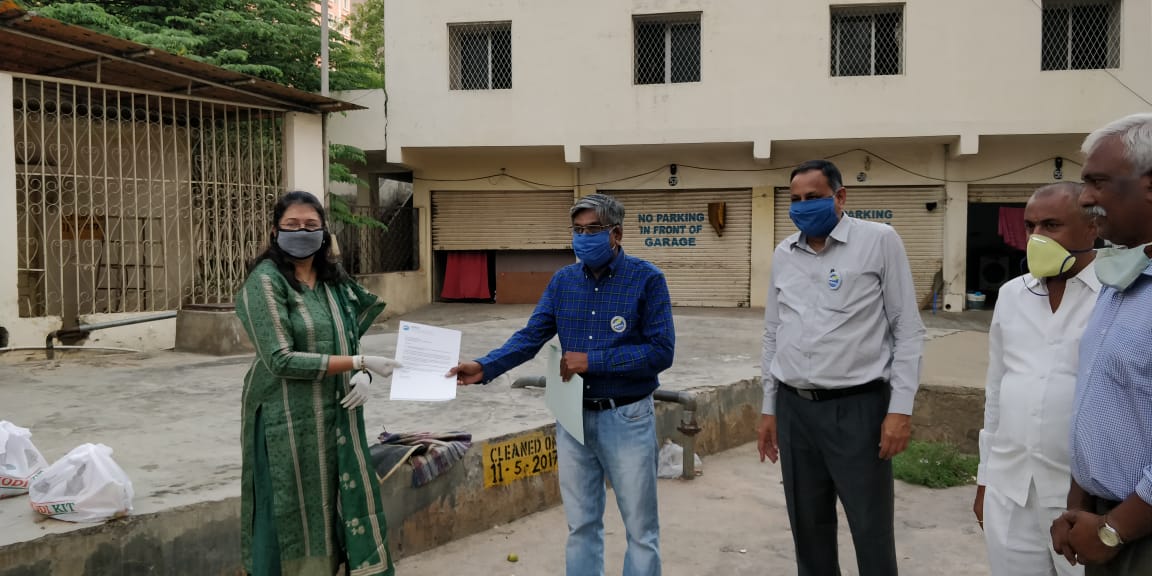 13th May: 
Coverage of distribution in Surya Tanda (Garla mandal) in the presence of SI and MPDO.

12th May:
50 kits of provisions were distributed to Hair Dressers in Himayatnagar suffering due to lack of work as saloons continue to be closed.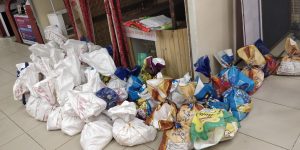 11th May: 
Continuing the good work, provisions were distributed in the following villages (under the supervision of Mr Bhukya Balu of Bombai Tanda): Kidatapuram, Chintalatanda, Pandhem, Manikyaram, Sinthal Tanda and Venkatapuram.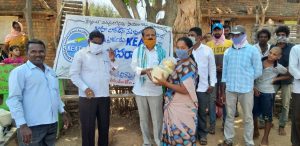 9th & 10th May:
Second round of distribution of 300 more grocery kits to tribals in remote areas of Yellandu and Singareni mandals. Villages covered -
Gandhepadu, Isukamedhi, Rendaakulagutta and Kambhaipally. 
9th May:
Gave ₹2.00 lakhs to a school in Moosapet (name with held) as assistance during the crisis. KEATS has been financially supporting the school since last four years by paying the fees of the economically weaker students.
7th May:
Basic needs of migrant construction workers from Bengal and Mehboobnagar at Hitech City MMTS station addressed.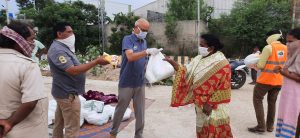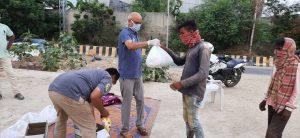 5th May:
Distribution of 40 kits of groceries at Manjeera Road for carpenters from Rajastan today morning.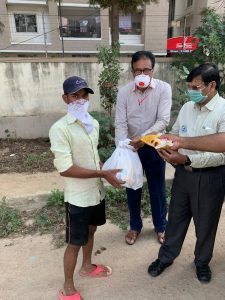 2. Distribution of Groceries to 35 Purohit families in Meerpur, near LB Nagar. I watched the distribution through a video call and they blessed the entire KEATS team.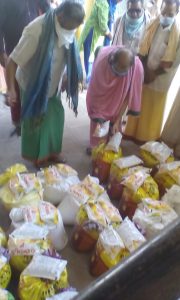 4th May:
1. Distributed 150 grocery kits to outsourced GHMC safai workers at Domalguda Mee Seva centre along with Corporator, Ms. Lasya Nandita.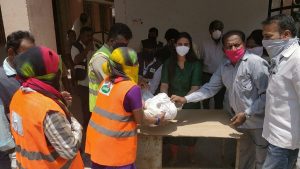 2. Distributed 50 kits to the family members of retrenched drivers from Emirates cab services and daily wage earners at Borananda.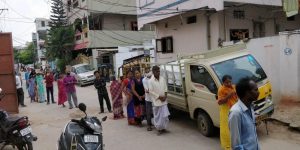 30th April & 1st May
Beneficiaries: Bhoktas at a temple in KPHB and migrant labourers from Srikakulam in Moosapet. Masks and sanitizers given to police personnel.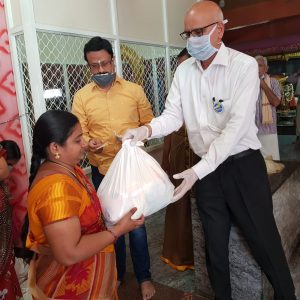 29th April: Essential items were delivered to interior villages where no help has reached them till date - Adaviramaram,Metlagudem, Bushuraigudem in Yellandu Mandal & Seetharamapuram in Singareni Mandal of Telangana.
28th April: Today provisions were given to migrant labourers from Odisha in Anjaneya Nagar near Moosapet.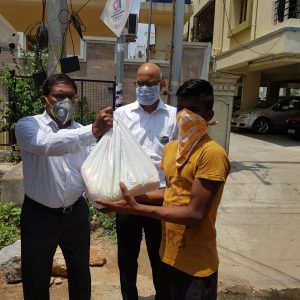 27th April: Nearly 100 grocery kits, provided by KEATS, have been distributed to the needy through GHMC, NTV and Rainbow Vistas Association during the past few days. Masks have been given to policemen.
25th April : Distribution of groceries by KEATS to 300 migrant workers, mostly from West Bengal, Jharkhand etc in and around Sangareddy area.
23rd April: 1200 grocery kits, worth ₹6.00 lakhs, are being distributed at the doorstep of the needy in Yellandu Mandal of Bhadradri-Kothagudem dt. during this week.
(It would be worthy to mention here that Bombai Tanda village in the district has been declared Open Defecation Free with the construction of 214 toilets by KEATS. The primary school and Anganwadis have also been given a facelift. A total sum of ₹30 lakhs has been invested in the village).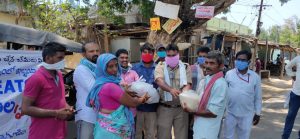 22nd April: Distribution of kits to tribals at Mondi Topu, Yellendu Mandal, Bhadradri-Kothagudem dt under the supervision of government officials - JC, RDO, MRO and RI.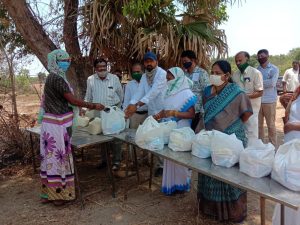 22nd April: Distributed over 50 kits of provisions (each costing ₹500) to migrant labourers from MP residing in Shaktipet Indl area. They were identified by CI, Kukatpally. KEATS reps Ramesh and Sireesh Kumar were present.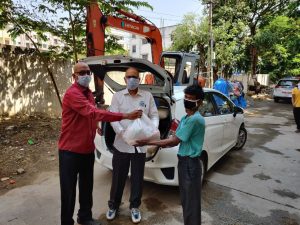 21st April: KEATS Managing Trustee Mr YS Subrahmanyam handing over 200 grocery kits (valued ₹500 each) to Sri Gangaram, Addl DCP, Central Zone, Hyd (as henceforth the distribution will be done only by the Police or GHMC authorities).
Distribution program in Mogilicherla village.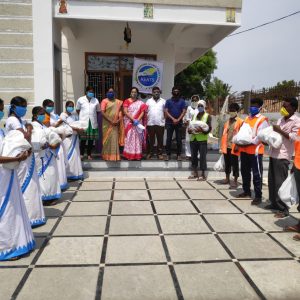 Date: 19th April, Venue: ZPHS, Dharmasagar, Dist: Warangal Urban, Beneficiaries: ASHA and Sanitary workers
19th April: Groceries for 15 days distributed to migrant workers of Orissa/Bengal in Fatehnagar industrial area and to the poor around Rainbow Vistas, Kaitalapur.
19th April: Groceries for 15 days also distributed in Gopanapalli Tanda, Hyd
18th April: Groceries distributed to poor families including Archakas at Pochamma Temple, Yousufguda.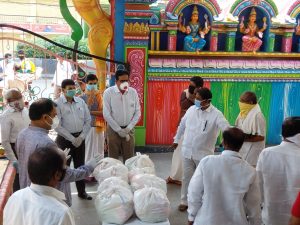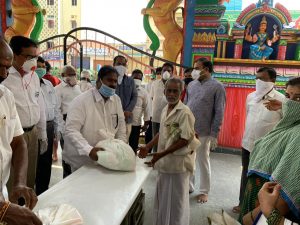 17th April: KEATS handed over 500 PPE kits, worth nearly Rs 7.4 lakhs, to Gandhi and Osmania Medical college hospitals.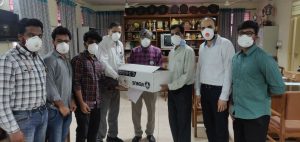 13th April: Distribution of 250 provisions kits at Golconda by Mr Anjani Kumar, IPS, Commissioner of Police, Telangana.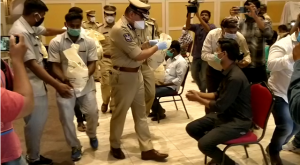 Distribution of provisions kits to migrant labourers at RTC Crossroads, Chikkadapally and Ashoknagar and to home guards under the aegis of JCP, Central Zone.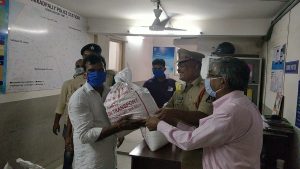 75,000 donated to SRTE&ICWS (HIV Home for children), Eluru for their survival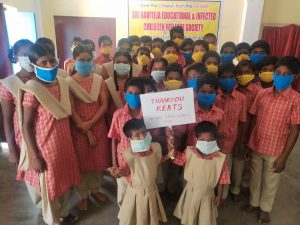 Provisions arranged for children and staff of Child Ashram, Gollapalli
50,000/- donated for provisions to Give Life Trust, Ramanthapur that houses 103 children including blind.